WOODS PELLETS MILLS
You are an expert in wood pellets. We've got the lubrication experts and products for your mill.
HT2 Grease
High temperature grease designed for mills
Reduces grease consumption by an average of 40%

Extends greasing intervals

Prolongs bearing life up to 2000 hours

Increases production capacity

Reduces operating temperature (inside bearings)

Consult success cases for more detailed information
SYN100 Grease
Multipurpose synthetic grease (GC/LB)
PAO based 100% synthetic grease

All seasons (replaces grades 2-1-0)

Exceptional weight resistance (620 kg)

Rust and corrosion protection

Automatic greasing system

Up to 10,000 RPM

For mobile or stationary equipment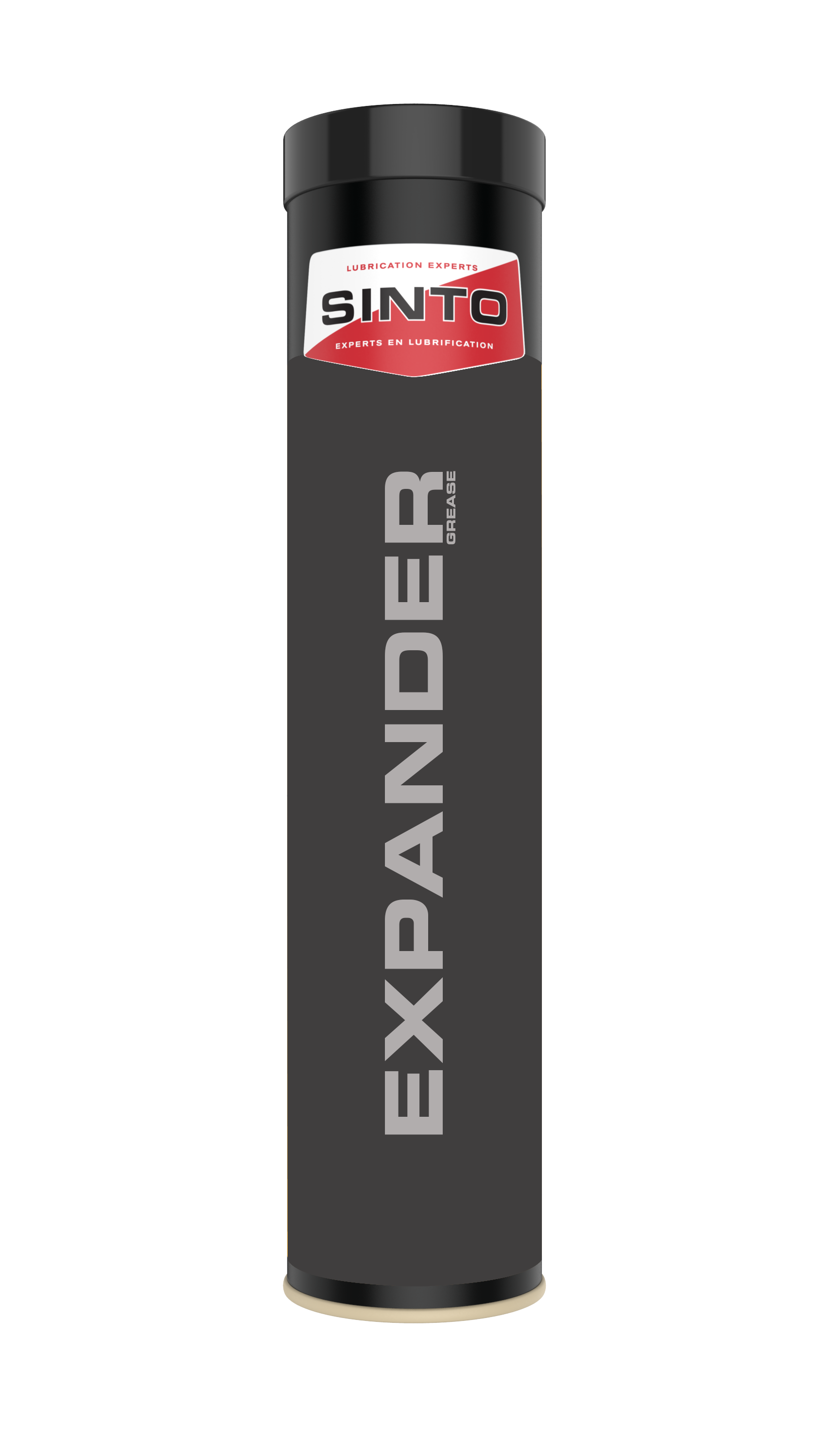 EXPANDER Grease
Made for expander type equipment (andritz)
Specially designed for this type of equipment

Keeps bearings in excellent condition

COMPAGNY: ISOPORC ST-HUGUES MILL
Activity: MEUNERIE
CONTACT : FRANÇOIS TURCOT, Operations Manager
The St-Hugues mill produces swine and duck feed mostly for its shareholders of which Isoporc is a member. The company is closely linked to Isoporc which raises 500 000 pigs annually with the help of many livestock farmers. The plant produces approximately 4000 tons of animal feed each day and operates 24/7.
Operations: 24/7
Bearing: 185MM
Operating temperature: 80 °C




Name : Granulco inc
Industry : Wood pellets
Location : Sacré Cœur de Saguenay
contact : Eddy Gauthier
Located in Sacré-Cœur, on the Upper North Shore of the Province of Québec, in the Boisaco Group industrial complex, the Granulco plant produces ecofriendly wood pellets for domestic and commercial stoves or furnaces, and high quality granular horse litter.


The company operates two pellet mills (200HP and 400HP) 12 hours a day. Before moving to the SINTO's grease, the company used the MYSTIK JT6. Here are the results :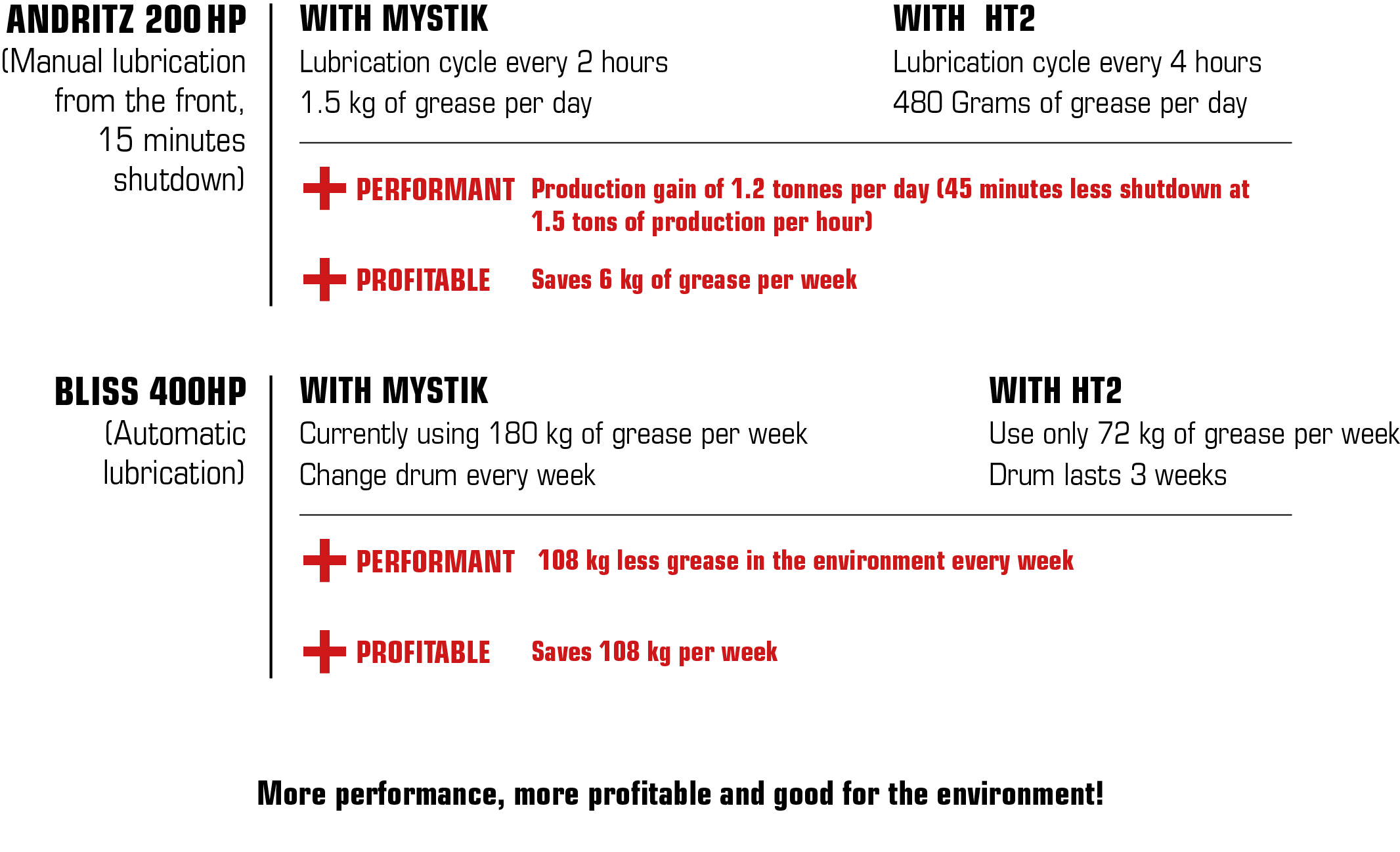 COMPAGNY : GRANULE SM inc.
ACTIVITY : GRANULE DE BOIS
CITY : SAINT-THÉODORE D'ACTON
Person in charge : Maxime Desmarais

Granule SM operates a wood pellet mill of 150 HP 12 hours a day 5 days a week. It produces wood pellets for heating purposes and litters.

Two to three bearings needed to be replaced each month and the equipment had to be lubricated every 15 minutes with almost 70 grams of lubricant each time. Each of these damaged bearings caused a two-hour loss of production.

Before meeting with Sinto's lubrication experts, people at Granule SM tried lubricants like LUCAS, Mystik and Prolab without ever finding a solution to their problem. Sinto's experts advised them on the type of lubricant to use in that particular case and on the best lubrication practices for this type of equipment: Lubricate every 4 hours with 45 grams of Sinto's HT2, a lubricant specially designed for this type of machine.
THE RESULTS WERW IMMEDIATE AND POSITIVE:
Granule SM stopped damaging bearings. No bearing has been replaced for more than 2 months.
No more stops in production nor expansive repairs.
Production has increased by 30% and the company will soon install a second 150 HP wood pellet mill.
Lubricant consumption went from 8 3200g-tubes once a day to one tube every three days.
Maxime Desmarais
Granules SM inc.